Manitoba to start booking 2nd dose COVID-19 vaccinations Friday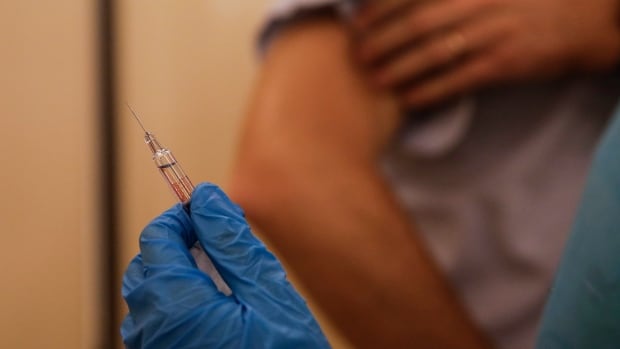 Second dose appointments for the COVID-19 vaccine will open Friday in Manitoba.
The first appointments will be reserved for priority groups with certain health conditions or compromised immune systems, officials said during a technical briefing Wednesday morning.
The announcement comes a few days after Manitoba opened up vaccine eligibility to everyone 12 and up and saw a record number of appointments booked in a day.
So far, about 53 per cent of adult Manitobans have received at least one dose.
Everyone who is eligible and interested is expected to have the first dose by June 9.
Manitoba officials are expected to speak more about the second dose plans during a news conference later today.
Reimer will speak at the public news conference at 12:30 p.m. CBC News will live stream it here and on Facebook, Twitter and CBC Gem.
Dr. Joss Reimer, medical lead of Manitoba's vaccine task force, announced last week that the province will mostly pause first-dose appointments of AstraZeneca, citing recent news about the vaccine and supply issues.
She said in recent weeks that Manitoba is considering giving at least some of those who received a first dose of AstraZeneca, which uses a viral vector technology, a second dose of an mRNA-based product instead, such as Pfizer-BioNTech or Moderna.
Johanu Botha, operations lead of the task force, said on Wednesday that Manitoba is holding off on recommending the mixing of different vaccines until more studies are released.
Those eligible can visit the province's website to book an appointment or call 1-844-626-8222.